Board of Directors
The Amani Medical Foundation's Board of Directors provides strategic direction in the accomplishment of the Foundation's mission to improve health and well-being for women and children in Ghana and West Africa. The Board will also supervise the executive staff of the Amani Medical Center.
Executive Director:
Ms. Sarah Townshend
Co-Founder and President:
Victor Agbeibor, MD, residency program director at St. Francis Family Medicine Center in Midlothian, VA
Co-Founder and Vice-President:
Catrell Agbeibor, MD, family physician in Williamsburg, VA
Chairman of the Board:
B. Andy Le, MD, a primary care physician in Phoenix, AZ
Secretary:
Kenneth C. Lao, MD, an ophthalmologist in Gainesville, GA
Treasurer:
Frances Cheng, MD
Members:
Prince Agbeigor, an engineer at Schlumburger in Ventura, CA
Scott Austin, a businessman in Birmingham, AL
Rosemay Ayitey, MD, a physician in Oklahoma City, OK

Rene Cabral-Daniels, JD, MBA, a consultant in Williamsburg, VA



Christopher Yan-Chi Chow, MD, a family medicine physician with the Hillcrest Medical Group in Tulsa, OK
Afua Entsuah, a graduate student at the Kennedy School of Government in Cambridge, MA
Mikael A. Jacobs, MBA, a financial advisor with Trustcore Financial, Inc in Brentwood, TN
Daniel Lee, DO, an obstetrician in Tulsa, OK
Darin Mann, MD, a physician in Tulsa, OK
Dorothy Owens, a realtor in Savannah, GA
Pascal Owusu-Agyemang, MD, an anesthesiologist at MD Anderson Medical Center in Houston, TX
Janel Paulk, a healthcare administrator with Healthcare Corporation of America in Charleston, SC
Jeremy Powers, MD, plastic surgery resident at VCU Medical Center in Richmond, VA
Dora Akuetteh Saforo, MD, a physician at Family Medicine Oceanside Clinic in Oceanside, CA
Alvin Shih, MD, a consultant with L.E.K. Consulting in Boston, MA
Sanjay Thomas, MD, surgeon in Cooperstown, NY
Timothy Yu, MD, CAQSM, assistant program director at VCU-Fairfax Family Practice Sports Medicine Fellowship in Fairfax, VA​
Powered by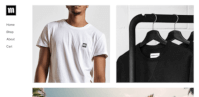 Create your own unique website with customizable templates.